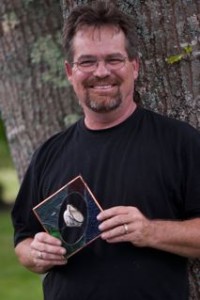 "It is the hunt that makes me do it," says Richard (Rick) Carney Jr. of Brunswick, Maine."Anywhere there were people, there is stuff." Carney is referring to the thousands of old bottles, crockery items, coins, rings and clay pipes he digs, dives for and collects. Carney's interest in old bottles began when he was twelve and his mother had a yard sale from bottles she had dug up. Rick was hooked.
Early on in his thirty years as a scuba diver, he purchased underwater metal detecting equipment, and soon after found a class ring in twelve feet of water at Camp Fernwood on Thompson Lake in West Poland, Maine. Carney tracked down the owner, using initials engraved on the band. Beverly Winslow Parker, class of 1944 at Saugus High School in Saugus, Massachusetts, was speechless when in September of 1994 she answered the phone and learned her long lost ring had been found.
Carney creates a line of jewelry from old bottle fragments which he markets through his company Old Bottle Sea Glass of Maine www.seaglassofmaine.com. But in recent years, his attention has also turned to the art world, and he works mostly in stained glass to produce one-of-a-kind window panels and functional art lampshades using his found bottle glass and artifacts.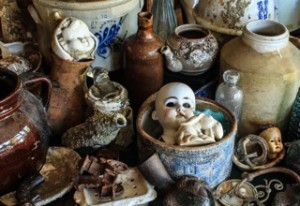 One October Carney and his wife Cindy had a booth at Apple Harvest Day in Dover, New Hampshire, and while taking a break from selling his wares he wandered over to the nearby Cocheco River. He returned the next week with his gear and went in. Right in front of him was a flawless four-gallon crock made in Bennington, Vermont, with a big blue flower painted on the side!
Later, diving in a river in Hudson, Massachusetts, he was amazed to find a perfect glass gasoline pump globe with the words "THAT GOOD GULF GASOLINE" still visible. That glass globe used to light up on top of Gulf gas pumps at service stations back in the 1930s and '40s and is worth anywhere from $400 to $1.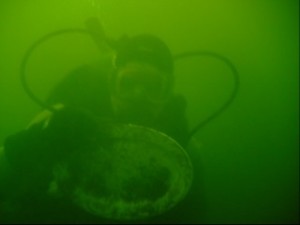 Carney considers the Piscataqua River at Portsmouth, New Hampshire, the most dangerous river to dive, with its tides, swift currents and poor visibility. There is always an eight to ten knot current and he rigs himself a search line from an anchor. "Navigating underwater is like navigating blind," he says. "Always trust the equipment. You can't see anything, you're feeling around for stuff."
Carney's workshop is filled with brown English rum bottles and eagle flasks that will go into lamp shades and panels. Tiny olive morphine bottles and Carter's aqua ink bottles line a printers' composition drawer hanging on one wall. The workshop has spilled into the basement and bottles of all types line shelves. Preparing recently for an art exhibit, Carney was embedding an old ceramic doll's head in a small amber demi-john bottle. He titled the piece "Preserved in Amber and hopes it will some day hang in a lucky customer's window.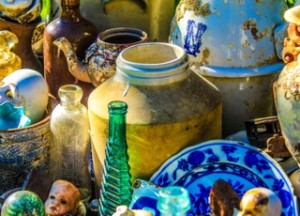 Carney may have succeeded at every man's dream of turning an exciting hobby into a life's work. "The trash is everywhere. I don't look at it that way, but in 1850, whoever threw out that jug said 'this is garbage'." He does lots of research about wrecks and dump sites, pouring over old maps and records to get background information. He has brought up lots of 1790s bottles, dishes, crockery and clay pipes down in Phippsburg, Maine, on the Kennebec River. Phippsburg dumped the town trash there near Parker Head Steamboat Landing for 200 years
"I was the first person in 150 years to go into Wiscasset Harbor," says Carney in wonder. He started bringing up perfect bottles from the 1760s to the 1790s, and big, colorful chunks of glass untouched since the 1850s. Carney dives all year, most of the time by himself. "Winter is my favorite time," he says, "no boats, no people, and I know my comfort zone." But as Carney says, diving is inherently dangerous, especially in winter. One wrong move and a diver could end up under the ice. On a dive at the site of the Essex Steamboat Museum, he was diving around pilings, but came up to check on his friend, whereupon their regulators froze up. The air was 40 degrees F, but the water was 34 F. That was the end of diving for that day.
"It's a whole different ballgame diving in a dry suit, "says Carney, who wears this heavier outfit with extra weights from December until May. He switches to a 7 millimeter weight wet suit in late spring and 3 millimeter suit for summer. "I don't take chances. If the hair suddenly stands up on the back of my neck, I get out of there." He mostly dives alone because others don't want to take the time. Visibility is often poor due to current. The torpedoes he uses to propel himself often do double duty, blasting holes in the river and ocean bottoms to reveal treasures.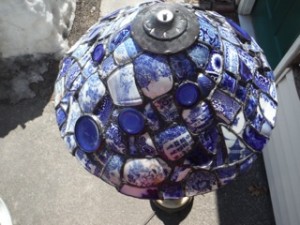 Carney is radiant as he describes a huge treasure find in 2004, in the Presumpscot River in downtown Westbrook, Maine. On this summer dive he discovered a solid wall 40 yards long of bottles, glass, crockery, dishes and other items that banked the curve of the river. He also digs old land dumps and privy sites. Before the advent of indoor bathrooms, people tossed trash into the outdoor privy during winter when they could not get out to the burn pile. After 100 years, all that is left is metal and glass.
What was his most valuable find to date? In December 2008 he brought up an old amber-colored Farley's ink bottle worth $800. This was one time he dove with a buddy, who brought up another Farley bottle in a rare green shade. Value? "Thousands of dollars, thousands!" Visit Carney's website www.seaglassofmaine.com for further tales of his memorable finds.