Count Massachusetts' Charles River as one of the busiest recreational waterways in the world. That may be due in part to its location. While the Charles begins 80 miles out at Echo Lake in Hopkinton, it ends in the heart of Boston. The Charles River Basin, the area from Watertown to Boston, is lined by parkland and is surrounded by a densely populated urban area. Included in that are three large college campuses: MIT, Boston University and Harvard. Many are drawn to the Charles for both a natural respite and recreation.
And the recreation opportunities are seemingly endless both on and off the water. Charles River is home to one of the world's largest public sailing programs, several rowing and yacht clubs, and is the setting for a world-class rowing regatta, the Head of the Charles, which pulls in 11,000 athletes and 400,000 spectators. Add to that amphibious Boston Duck Tours that brings a reported 600,000 visitors to the Charles, a busy concert venue and countless pedestrians and runners along its paths.
Thanks to an ambitious clean up launched in 1995 there's an abundance of wildlife too. The Clean Charles River Initiative was a cooperative effort of government, nonprofit and private institutions to help make the Charles fishable and swimmable. 20 years ago the River was deemed marginally safe for those activities. Today the US Environmental Protection Agency's most recent report card gives the Charles an A-, the highest rating to date. Fishing, sailing and paddling are just a few of the ways to get into the Charles.
Catch and Release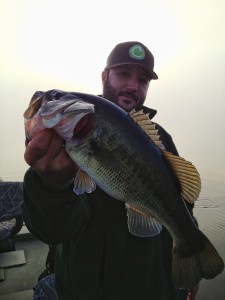 The Charles is a very unique place to fish says Greg Miner owner of the Charles River Outdoor Company. "People fishing in Boston get the juxtaposition of a great urban view. And then some back tracks of the River feel so remote. If you go only about 20 minutes out of the city, you think you have been transplanted to rural Maine," Miner says. He has been boating and fishing on the Charles River for as long as he can remember. His company specializes in helping both seasoned and first-time anglers enjoy the diverse beauty and wildlife of the Charles. Their policy is catch and release; anglers can expect to reel in large mouth bass, small mouth mass, pickerel, yellow perch, calico bass, carp, and in certain stretches there's trout he says. Fishing trips in the Charles River Basin take place on a 20-foot bass fishing boat which holds up to 5 adults and uses a wireless remote trolling motor.
First timer anglers may want to try out the sport in late May or early June when the fish are very active says Miner. Even experienced fisherman would benefit from a guided tour given the heavy boat traffic and the unpredictable winds and weather on the Charles he says. A fishing license is required.
Charles River Outdoor Company
Sailing
One of the oldest continuously running sailing centers in the country is situated along the banks of the Charles. The late Leonard Nimoy learned to sail here. Each year more than 4,000 adults, kids and teens come to Community Boating to navigate the winds and the waters of the Charles. At the heart of the fleet are 66 centerboard Mercuries and 14 keel Mercuries, and they also have racing boats including Rhodes 19s, Sonars, Lasers and 18 420s. Kayaks, windsurfers and stand up paddleboards round out the options. Their season runs form April 1 to October 31. Classes range from a basic introduction to sailing to advanced sailing and racing techniques. Of note is their Universal Access Program for people with special needs. Find out more at one of their upcoming open houses on Saturday, May 16th, and Sunday, May 17th from 10AM to 2PM.
Community Boating
Canoe and Kayak
Back in the 1970s, the Charles River Canoe Center was an outpost of the Metropolitan District Commission. Today Charles River Canoe and Kayak is the leading paddle outfit on the Charles, renting boats in the thousands on the busiest summer weekends. Their goal now is the same as when they started—to bring affordable outdoor recreation to the Boston area. They manage 4 rental locations with single and double recreational kayaks, standard and large canoes, and stand-up paddleboards. Sea kayaks, paddleboats, rowboats and rowing shells are also available in some locations.
Paddlers can get introductory or advanced skills training, guided excursions, ecotours and even shuttled service to drop off points downstream. Looking for new adventures? Grab 10 of your closest friends for a trip on a 25-foot Rabaska canoe or leave the T behind and paddle your way into or out of Boston or Cambridge taking advantage of their "one-way" rentals.
Charles River Canoe and Kayak
And SUP, too
Ever-evolving Charles River Canoe and Kayak now offers stand up paddleboarding, from rentals, to first time instruction, to advanced skills training. Their skyline paddle tour from Kendall Square, Cambridge is highly recommended. If you are new to the sport, general manager Mark Jacobson suggests trying a Downwinder, a highly stable touring board. "Downwinders can be a fun for experienced paddlers, but for the first time come out early in the morning on a calm day so you can get comfortable on the board before you have to learn how to handle wind and waves," he says.
Charles River Canoe and Kayak