I don't remember any summer vacations growing up that weren't spent in Montana. The family would rent a motorhome and we'd drive from river to river for the first two weeks in August. As flyfishermen, it was the ultimate pilgrimage to some of the best trout streams in the country, if not the world. I remember a feeling of dread as the trip ended because it meant there were only two weeks left before school started, but while we were in Montana I had few worries.
Nowadays even a vacation has responsibilities. Kids, dog, a job that won't stop emailing; all these keep me from slipping into that zero-worry state from childhood. As relaxing as a three-day backpack in the backcountry is, I'm still constantly concerned for the well-being of the kids. So vacations where I'm the adult aren't really vacations.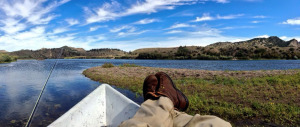 That's one of the reasons I enjoy fishing with my father. Most of the time he's Grandpa Jack, but when the kids are a couple of states away he's just Dad. Even though I might drive and pay for more of my share of the cost of a trip to Montana, he's still Dad.
We drove from Seattle to Helena on Thursday. It's a long drive. Figure about 10 hours. Maybe 12 if you stop as much as we did and obey the speed limits. We pulled into Craig, the tiny three-fly-shops-two-bars-one-church town on the Missouri River just after dinner. Once we found our keys I was asleep without much fanfare.
In the morning we met our guide, Tim Plaska at The Trout Shop. It's the biggest and best of the three shops in Craig and also runs the lodge we stayed in not to mention a cafe. Heck, for all I know they own the restaurant and the other fly shops, too.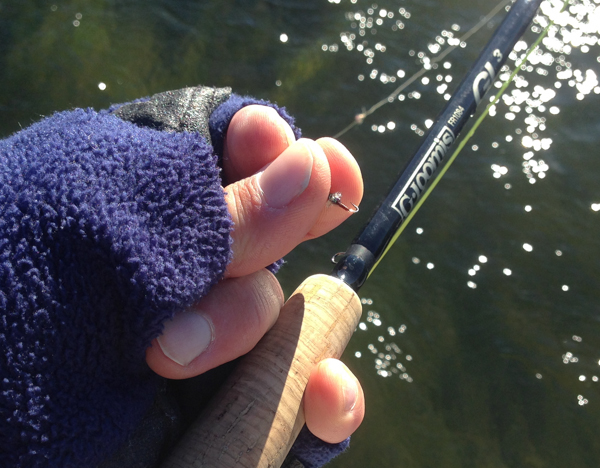 Tim's been our guide many times before. The last two times I was on the Missouri he was our guide and my father has floated with him many other times. Like last year, we started at the Holter Dam and planned to float downstream to Craig.
The fish weren't on the surface much, but we did great with streamers and nymphs. It's amazing that fish that big will take a fly that small. Tiny. Teeny-tiny, in fact. And where are the little fish? Every fish we saw was good size. A 20 degree rainbow wasn't out of the question and none were smaller than 15 degree. It's not stocked (no Montana rivers are stocked) so where are the little fish? Do the big fish simply pop into existence or do the little fish hide? If so, how do they get to be the big fish?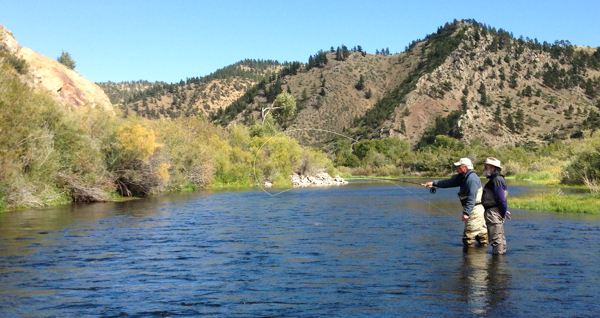 Although it was cold to start the day (it had snowed a few days before) it slowly warmed up and the wind died down. By the end of the day it was downright balmy. It's no wonder that while walking along the shore on one of our frequent stops to wade-fish I was startled by a very distinctive noise.
It was that rattling noise that, even if you've never really heard it before, you know exactly what it is. Right at my feet the big rattlesnake slithered into the rocks slowly shaking its tail.
O. M. G. (There might have been some other words thrown in, too.)
I scampered away from the rock pile to where I could take pictures safely while my father fished. He hooked one and Tim got out of the boat to help net it. Rattling made him reconsider. Dad lost the fish, but we were ok with that.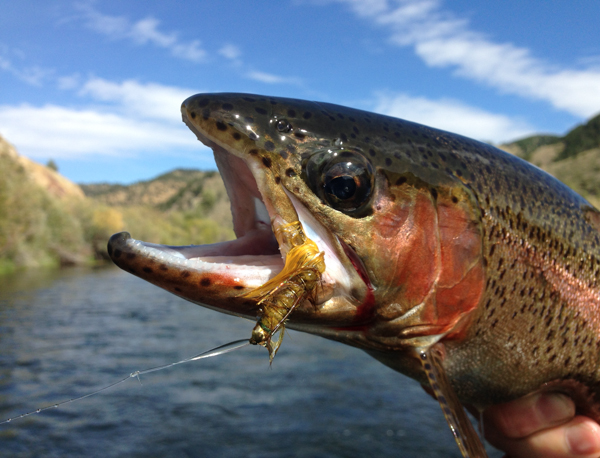 When it was time to go back there he was again. Mr. Rattler was lounging on the rocks soaking in the warm sun. He wasn't too interested in me so I was able to get some pictures (well out of striking distance (I hope)). I'd be happy to cross that experience off my list and never see another one in the wild again.
We didn't catch all the fish or the biggest fish, but we were into 17, by Tim's count. 17 big fish is a great day even if you don't land them all. Besides, it's not like we were going to keep any of them. We're 100 percent catch-and-release.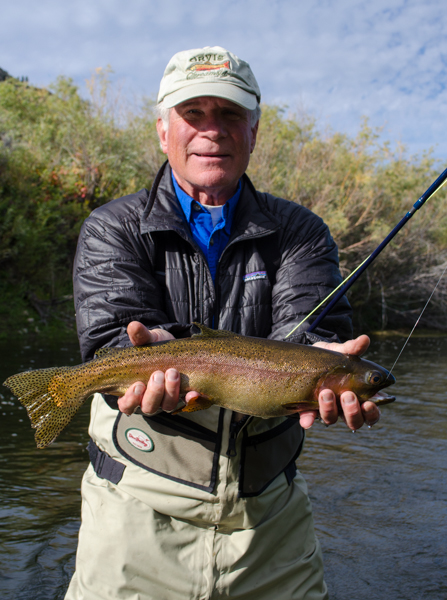 After bidding Tim goodbye we had dinner at the amazing restaurant, Izaaks. It sounds weird, but I swear they make one of the tastiest burgers anywhere. And the atmosphere is a strange blend of locals, visiting fishermen (and increasingly fisherwomen), and dogs. No need to go into Helena for fine dining. It's right in Craig.
The next morning we left Craig and headed back almost to Missoula. When I was a kid, Rock Creek was the first and last stream we fished each year and even though it didn't really perform on last year's trip I was excited to go back. Besides, this year we had info on how to find the secret spot. It was going to be good.
Except when we got there the secret spot was (a) where we fished last year and (b) full of people. Hmph. We continued upstream another mile or two and found a turnout that wasn't occupied. Rock Creek is such a great stream and so close to a "major" population center (Missoula, 68,000 people) it is often crowded. The trick is to find a section where you can't see anyone else and fish upstream. Sure, you might be fishing the same water that was fished earlier in the day, but since there's literally (but not literally literally) a fish behind every rock it's not a problem.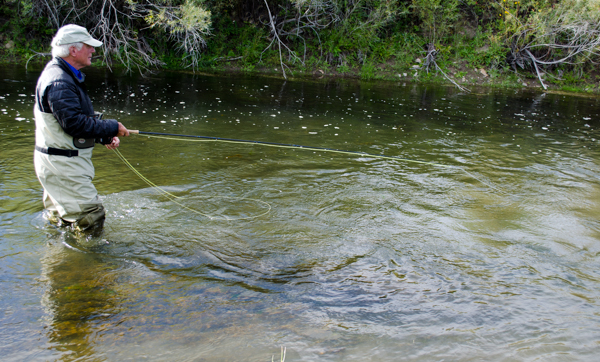 Being a purist, I fished only a dry fly. It was plenty good. Over the course of a few hours I landed 14 fish, touched another 13, and flat out missed 13 more. Often I could see the fish come to the surface and casually take the fly. (Usually I missed those because I was too distracted watching the fish.) My father and I fished together, but also split up where the creek broke into channels. Just like when I was little, he insisted I take the first shot at each hole. Unlike when I was little, I didn't miss as much so he had fewer chances.
We didn't see the moose that was rumored to hang out in the area (not for lack of trying), but did find a herd of bighorn sheep. I've only ever seen sheep in passing on the way to Lake Chelan, east of the Cascades in Washington. This time we were able to hang out with them and the big lens. I had fun.
Our drive back provided another eight hours of time to talk about nothing in particular as well as time to just sit next to each other as the miles flew past. By the time we crested Snoqualmie Pass and began the descent into Western Washington I was back to thinking about what I had to do later that day and later that week.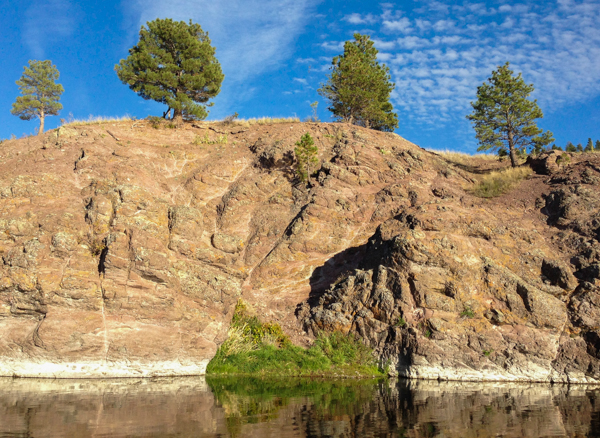 None of it was especially pressing, but it all reminded me that in spite of my best efforts I had indeed grown up. And in spite of my age and role as a husband and father it's critically important that I sometimes get to be a son again. If you haven't tried that in a while, make time for it. And make the other adults in your family make time for it, too. We should all be kids once in a while so we can understand why our kids are doing what kids do.